Middle School Gathering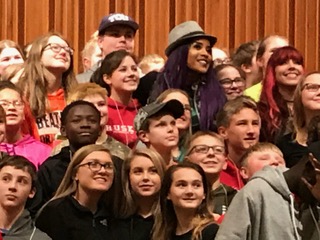 The Middle School Gathering is a highly interactive experience for youth in grades 6-8 and their adult leaders.  Each year, the Middle School Gathering is held on the Saturday and Sunday immediately before Martin Lutheran King, Jr. Day.  The ministry event lasts about 28 hours, but the memories last a lifetime.
Why does the Middle School Gathering happen?  The group of adult leaders who help plan the MSG recently answered that question with these statements:
·       "Relationships are built, and it's important to have good, healthy relationships during the middle school years."
·       "It connects young people with young people across the state."
·       "The young people get to meet others who love God."
·       "It's like a mini ELCA Youth Gathering.  Some of our middle school youth don't know how big the church is."
·       "It's good for smaller churches without a large middle school ministry."
·       "The MSG opens eyes to what is done outside their own congregations.  They can have new experiences and learn new ideas."
The 2019 Nebraska Synod Middle School Gathering will be held at First Lutheran Church in Kearney.  It will start at 10am on January 19 and end at 2pm on January 20.  Youth in grades 6-8 and their adult leaders are invited to participate.
Participants will have the chance to worship, sing, serve, eat and have fun together.  This year's guest artists will be musician AGAPE* and spoken word poet Joe Davis.  The theme for the weekend is "Rooted," and participants will explore Colossians 2:6-7.  Check out the Middle School Gathering's Facebook page for updates.
Registration Rates and Information:
·       Early bird (submitted on or before November 21, 2018):  $45
·       Regular registration (submitted November 22-December 14, 2018):  $55
·       Late registration (submitted December 15, 2018-January 3, 2019):  $65
·       Registrations are due by January 3, 2019
·       A ratio of six youth to one adult is recommended.  It is strongly recommended that both male and female adult leaders register with a group if both male and female youth will be attending.  If a group has both male and female youth but does not have both male and female adult leaders, that group will be matched with another group for cooperative supervision purposes.
·       Please register your group when you know who will attend, as we cannot accept placeholder names as a registration (for example, "Youth Female 1" or "Adult Male 2") in order to qualify for early bird or regular registration rates.
·       Housing will be at First Lutheran Church, and participants are invited to bring single air mattresses and sleeping bags for sleeping on the floor.  MSG planners assign participants to sleeping areas.  An adult leader with specific requests for roommate assignments for youth should email Lisa Kramme by December 14.
·       Meals included in the registration fee are Saturday lunch through Sunday lunch.
Steps to Register:
1.     Have EACH youth and adult participant complete a Registration Form (see link below).  
2.     The primary adult leader should use the registration forms to complete group registration online.
3.     Registration fees must be paid online with a credit card when your congregation registers.
4.     Each ADULT participant must complete a Volunteer Screening Form (see link below) and return it by January 3 to Lisa Kramme at 6757 Newport Ave., Ste. 200, Omaha, NE 68152 OR lisakramme@nebraskasynod.org.  
5.     If you need to request a refund, please note that the request will only be honored if emailed to Lisa Kramme by December 14.
6.     Bring the hard copy of the registration forms to the Middle School Gathering so an adult leader from your group can have them available for emergency purposes.
7.     Need to make changes after you've registered online?  For CANCELLATIONS, email Lisa Kramme the name of the person cancelling.  Requests for refunds will only be honored if emailed to Lisa Kramme by December 14.  For ADDITIONS made after your group has registered initially, simply enter the new person into the "Primary Adult Leader" section, noting in the "Fee" section that this person is a Youth. You will need to enter an email for the additional person that is different than the email used for your group's initial registration.  If you are wanting to SUBSTITUTE one person for another, email Lisa Kramme the name of the person canceling and the name, gender, t-shirt size, emergency contact and special needs of the person being added as well as acknowledgement that their covenant and medical/photo release were signed.  Substitutions made after January 3 are not guaranteed a t-shirt.
Forms & Links
Staff & Ministry Contacts:
Director of Faith Formation