Lutheran Youth of Nebraska (LYON)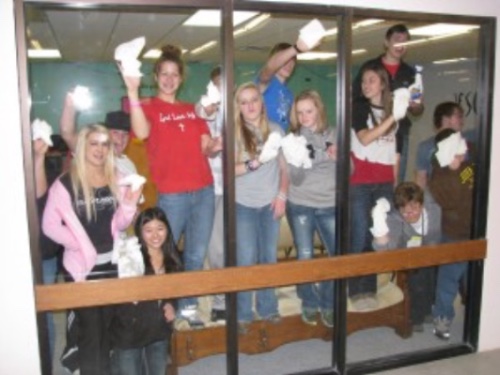 LYON stands for Lutheran Youth of Nebraska, and each year the LYON Assembly is held the weekend before Thanksgiving. All youth in grades 9-12 and their adult leaders are welcome.
Why do we get together as LYON each year? We recently asked the group of youth that plans the LYON Assembly, the LYON Leadership Team, that question, and this is what they said:
"To grow in faith and meet people with similar beliefs."
"To express our differences and come together as one."
"To worship, go out and serve, and meet new people."
"To connect with other churches."
"To experience a variety of ways to be with God and show God to others."
The 2019 LYON Assembly will be held November 16-18, 2018 at Carol Joy Holling Camp near Ashland, and youth in grades 9-12 and their adult leaders are invited to participate.  This year the theme will be Lead Like Jesus, and thanks to a generous grant from the Immanuel Vision Foundation, all participants will receive training in Peer Ministry Leadership by Lyle Griner.  In addition, all congregations will go home with materials for continuing Peer Ministry Leadership conversations in their communities.  Lodging and meals will be at Carol Joy Holling Camp and are part of the registration fee.  Space is limited, so please register early. 
Registration Rates & Information:
·       Early bird (submitted on or before October 1):  $100
·       Regular registration (submitted October 2-October 19):  $110
·       Late registration (submitted October 20-November 1):  $125
·       A ratio of six youth to one adult is recommended.  It is highly recommended that both male and female adult leaders register with your group if both male and female youth will be attending.
·       Please register your group when you know who will attend, as we cannot accept placeholder names as a registration (for example, "Youth Female1" or "Adult Male2") in order to qualify for early bird or regular registration rates.
·       LYON Assembly planners assign participants to sleeping rooms.  An adult leader with specific requests for roommate assignments for youth should email Lisa Kramme by October 19.
·       Meals included in the registration fee are Saturday breakfast through Sunday breakfast.
Steps to Register:
1)     Have EACH youth and adult participant complete a Registration Form (see link below).
2)     The primary adult leader should use the registration forms to complete registration online.
3)     Registration fees must be paid online with a credit card when your congregation registers.
4)     Each ADULT participant must complete a Volunteer Screening Form (see link below) and return it by November 1 to Lisa Kramme at 6757 Newport Ave., Ste. 200, Omaha, NE 68152 OR lisakramme@nebraskasynod.org.
5)     If you need to request a refund, please note that the request will only be honored if emailed to Lisa Kramme by November 1.
6)     Bring the hard copy of the registration forms to the LYON Assembly so an adult leader from your group can have them available for emergency purposes.
7)     Need to make changes after you've registered online?  For CANCELLATIONS, email Lisa Kramme the name of the person cancelling.  Please see information on refunds in #5 above.  For ADDITIONS, simply register the person being added by November 1.  If you are wanting to SUBSTITUTE one person for another, email Lisa Kramme the name of the person canceling and the name, gender, t-shirt size, emergency contact, special needs of the person being added and acknowledgement that their covenant and medical/photo release were signed.  Substitutions made after November 1 are not guaranteed a t-shirt. 
Downloadable Forms
Staff & Ministry Contacts:
Director of Faith Formation