Nebraska & W. Iowa Synods' Guardian Angels Training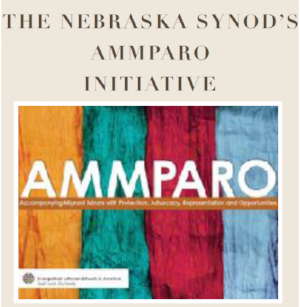 Nebraska & Western Iowa Synods' Guardian Angels Training
Saturday, September 22, 2018
9:30am to 12:30pm (Central)
St. Matthew Evangelical Lutheran Church
1725 S 60th St.
Omaha, NE 68016
The Guardian Angels program provides trained volunteers who accompany unaccompanied migrant children and single-parent families through their immigration court process, providing:
1. SPIRITUAL ACCOMPANIMENT – To provide spiritual support for them at court hearings
2. PHYSICAL ACCOMPANIMENT – To be a visible sign of the church in immigration court
3. COURT WATCH – To be present in court
4. RESOURCE SHARING – If requested, to provide information about local resources to assist migrants in their transition to life in the United States and to encourage families to obtain legal counsel. We need more Welcoming Congregations in Nebraska and Iowa to be able to expand our resource opportunities!
Omaha is the location of the Immigration court for families living in all of Nebraska and Iowa. Three Guardian Angels, at least one of whom speaks Spanish, visit the court on days minors have hearings, about three times per month, typically for 2-3 hours. Volunteers may attend court as little or as much as they are able based on their schedules and the volunteer calendar.
Please complete this free registration (see link below) by Monday, September 10, 2018 to assist with our planning logistics.
For more information about the ELCA's AMMPARO strategy which includes the Guardian Angels program, go to www.elca.org/ammparo.